By now, you should know that I simply can't resist a red carpet review. Though time has been a little tight lately, there is no way I can ignore what happened at the American Music Awards on Sunday. From home-run ensembles to horrific getups, Justin Bieber's rampant winning streak and Taylor Swift's questionable musical genre shift were the last things on my mind. Behold: my best and worst dressed lists.
The Worst.
Cyndi Lauper: I know that girls just want to have fun; however, this is just terrible. Though Lauper is notorious for her unapologetic style, she's just too old to be dressing like this. Please put on some normal pants and take off that plaid throw -- you just look silly. (Photo)
PSY: While I'm a sucker for "Gangham Style," I truly loathe this ensemble. The shimmery pants, alien sunnies, untied bow tie and awkward jacket are just too much to handle. No more, PSY, no more.(Photo)
Hayden Panettiere in Armani: I'm all for a metallic mini, but there's something very primitive about this pick. Thirteen-year-old me would love this dress, which is ultimately the issue. Not only does the frock beg to be worn to a Bar Mitzvah, the rest of the styling is quite basic as well. Although I am mildly concerned with the Nashville star's tiny frame, I just want her to sartorially grow up. (Photo)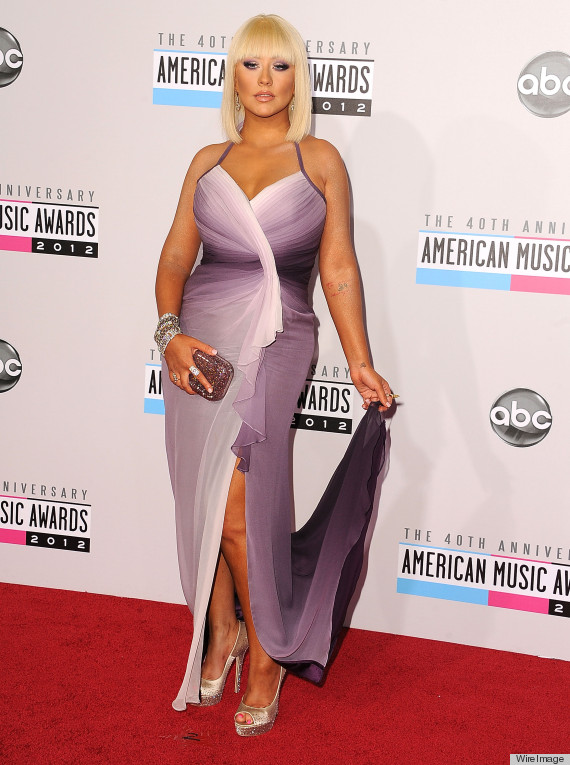 Christina Aguilera in Pamela Roland: The songstress has never been one to watch on the red carpet; however, there's something about the dress' ombre effect that I truly hate. Though the silhouette complements the star's curvy shape, the slit is tasteless and the hair is too modern for this ensemble. Maybe next time, X-Tina.(Photo)
Phoebe Price: This ensemble is so bad, I'm personally offended. Not only is this dress way too sparkly, I'm seriously questioning her accessory choice. From the headpiece to the oversized earrings, this ensemble is undeniably trashy. Can someone ban her from all red carpets? (Photo)
Brad Goreski: Oh no, say it ain't so! This ensemble is absolutely dreadful. I'm all for taking fashion risks; however, this is trashy. Are we at a cocktail event or a rodeo? I'm confused, and a little nauseous after looking at this ensemble. Please, make it stop! (Photo)
Carly Rae Jepsen in Gomez Garcia: Though I am shamelessly addicted to her poppy jams, this look has to go. While I'm so smitten with the relaxed updo, I loathe this ensemble. A halter and an excess amount of sparkle? When did we teleport back to 2003? Anyone? Miss Jepsen, please stop pretending that you're a teeny-bopper: we all know that you're much older than you appear. (Photo)


The Best.
Elisha Cuthbert in Georges Chakra: Talk about Golden Girl! I love how the metallic hue spices up the otherwise boring silhouette. For a sophisticated take, Cuthbert adds dangling earrings and a tight updo. Simplistic, chic and all-around gorgeous. (Photo)
Kerry Washington in Stella McCartney: Without a doubt, this pick is definitely a fashion favorite. While mainstream media may not enjoy this look, every style snob goes ga-ga for anything Stella McCartney. I love the contrast between her dark complexion and her lively ensemble. Major fashion kudos go to Miss Washington. (Photo)
Jennifer Morrison in Abed Mahfouz: Though this ensemble may be a little too sophisticated for the American Music Awards, I'm so smitten. The high slit, deep v-neck and extravagant sleeves add some sex appeal to the silhouette. Morrison's relaxed updo loosens up the whole look. Brava! (Photo)
Gennifer Goodwin in Oscar de la Renta: As always, Goodwin sports a dress that is so obscure and fashion forward, style groupies instantly have a fash-gasm. The pale pink hue creates a striking contrast against the actress' light skin and dark locks. Between the thought-provoking silhouette and the glitzy details, this dress is sartorial heaven. I love how the Once Upon a Time star pairs the de la Renta piece with small, but sparkly, accessories. (Photo)
Gwen Stefani in Balmain: Though some of you may criticize the blazer's unflattering silhouette, I think this ensemble is genius. Stefani brilliantly combines her punk-rocker past with her sophisticated present. The blazer's eye-popping details are perfectly juxtaposed by that revealing v-neck! Sporting her iconic red lip, the No Doubt front woman breaks her typical beauty regime with volume-infused hair. (Photo)
Zendaya in Alice+ Olivia: Disney Channel star or not, this look is absolutely supreme. The red carpet newcomer committed to a retro look with a 1950's do and that adorable A+O dress. For a contemporary twist, she adds an electric pink pout. Amazing. (Photo)





The Nicki.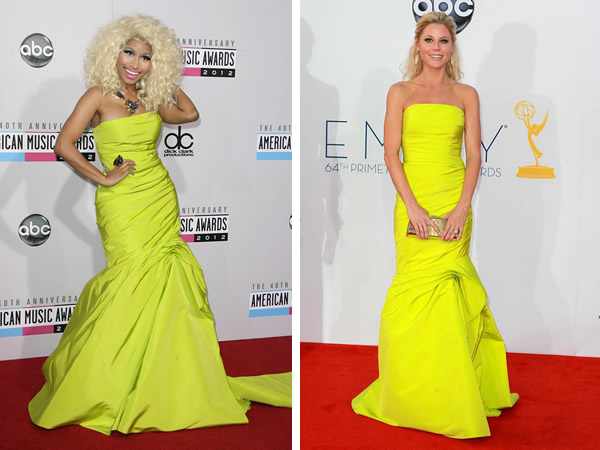 Well I can't say I'm particularly happy about this. First of all, I'd love to have a little chat with Minaj's stylist. And by "have a little chat," I really mean yell at said stylist. Julie Bowen and Paula Patton rocked this Monique Lhuillier number. This is unacceptable. That being said, I kind of love this dress on Minaj. The in-your-face hue complements her zany personal style (as well as her lipstick, hair, jewels... basically everything that is Minaj). Agree or disagree, you have to admit that she looks better than she usually does.(Photo)
What looks are on your best (and worst) dressed lists? I'm dying to know!
xx