As an avid television nerd, The Emmys is not just another award ceremony- each year, it is an event. It should be no surprise then to hear how I spent my Sunday night: glutten-free nachos in my mouth, my fellow T.V. groupie by my side, and E!'s
Live from the Red Carpet
on my television. Besides yet another year of
Modern Family
victory, I was disappointed with the whole awards. Jimmy Kimmel's self-obsessed hosting job made me sad, but it was the red carpet fashion that truly broke my heart. Sure, there were many great looks, but the bad were truly terrible. But why take my word for it? See for yourself.
Lauren Parsekian in Kaufman Franco
: The epitome of sleek style. Between the slimming silhouette and perfectly blown out hair, this ensemble is everything. Maybe a little too casual for the Emmys, but I adore it.
(Photo)
Padma Lakshmi in Monique Lhuillier: Fortunately, Lakshmi put a halt to the unbridled gang of tragic neon dresses. The silhouette is flawless while the color is fresh, but not bright enough to give you a migraine. Although I wish she added large earrings, her minimalist take on this ensemble allows us to focus on the gown's execution. (Photo)
Emilia Clarke in Chanel: The Game of Thrones' star ditches the HBO hit's dark color palette and trades it in for something so girly and perfect, you want to cry. While the dress' shape looks like something from Mad Men, the atypical hem gives this pick some sex appeal. From the clean hair to the simple drop earrings, the starlet's ensemble is flawless. Clarke prevents a cookie-cutter outfit with nude shoes, which allow fashion's peanut gallery to focus on the intricacy of the dress. I think this is my favorite of the night. (Photo)


Lucy Liu in Atelier Versace: Though the former Charlie's Angel star isn't usually on my style radar, I can tell you one thing: she knows how to make each fashion opportunity count. The variety of materials give this simple silhouette so much more depth than, say, a plethora of uniform paillettes. It's fun, yet classy. Not to mention that this fit is flattering beyond belief. The simple studs and slicked back hair completed a perfect red carpet look. (Photo)
Ariel Winter in Katharine Kidd: If this proves anything, it's that the young starlet is nothing like her nerdy onscreen persona. This dress is hot. I'm not quite sure what the print is supposed to be, but I love how innovative and youthful it is. Winter shows off the mullet top- business in the front, party in the back- with a regal updo. Simple jewels and a hint of a poppy lip makes it official: Ariel Winter is the new girl to watch on the red carpet. (Photo)
Emily VanCamp in J.Mendel: Confession time: I'm so jealous of Emily VanCamp: she is the star of one of my favorite shows, dating one of the prettiest boys on the silver screen, and got to wear this fantastic J.Mendel. The muted shade works perfectly with the Canadian star's feminine complexion while the ruffled detail is balanced by the dress' simple bottom. My personal favorite part of this whole look is the hair- sophistication and casual at the same time. Ugh, why can we all be this lucky? (Photo)
Jane Krakowski in Kaufman Franco:
I'm not going to lie, I may have an emotional breakdown during the series finale of
30 Rock
. Not only is the show comedic gold, the stars' red carpet fashions get better each season. Just
think
how awesome the casts' ensembles would be next year. My favorite of the primetime dream team's styles was Jane Krakowski's metallic dream. The funny lady added a dash of Jenna Maroney's diva persona to this ensemble, giving us this mega major outfit. This silhouette is so flattering and masks any sort of "
muffin top
" the
30 Rock
star may have. Since this dress is so sparkly, Krakowski kept the hair, makeup, and jewels simple.
Brava!
(Photo)
Morena Baccarin in Basil Soda: In a sea of cleavage-busting bodices, Baccarin proves that you can show off what your mama gave you whilst keeping it classy. The dress' plunging neckline is provocative and alluring; however, it's not uncomfortable. Basil Soda keeps this dress feminine with a soft color and delicate ruffles. Phenomenal. (Photo)
Allison Williams in Oscar de la Renta: Thankfully, one of the ladies from HBO's Girls was dressed to impress. Williams is a true vision in emerald. The architectural lines are both super slimming and chic. For a clean finishing touch, her pulled back hair perfectly juxtaposes the geometric gown.(Photo)
Ginnifer Goodwin in Monique Lhuillier: After careful consideration, I've decided that I'm a fan of this dress Sure it's quirky, but would we ever expect Goodwin to wear something conventional? Exactly. Time and time again, Goodwin chooses a dress that only fashion people would appreciate. And we really appreciate it this time. For one thing, the hi-low hemline is my everything. Another thing that I love about Goodwin's premium tastemaker status is her use of accessories. The urchin-esque earrings perfectly contrast the dress' whimsy applique. Looks like someone's getting ready for another season of Once Upon a Time. (Photo)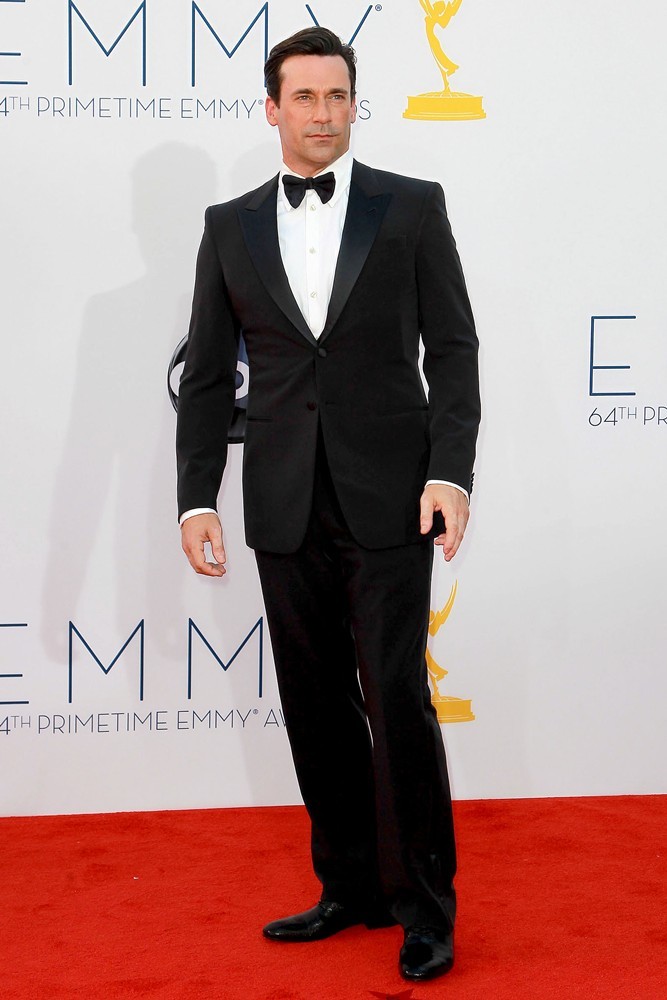 Jon Hamm in Giorgio Armani: If push came to shove, I would take one for the team and become Mrs. Jon Hamm. It'd be rough, because he's totally unattractive. But on the real, he looks more delicious than usual in this tux. Not only is the suit perfectly tailored, the bow tie is perfectly proportional to the rest of his ensemble. (Photo)




Claire Danes in Lanvin: This may be the most disappointing look of the night because I love usually Lanvin's designs and Claire's style eye. While Danes did stay on trend with this sunny hue, the silhouette is off. The pregnant star would've been better off with an empire waist or a dress that truly showed off her child-bearing curves. For shame, Alber and Claire, for shame. (Photo)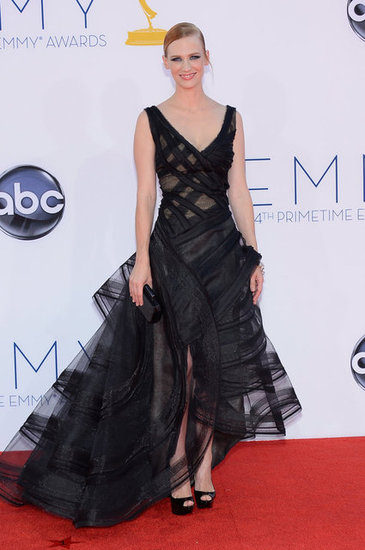 January Jones in Zac Posen: I love the dress, but what's going on with this hair? January, my darling, what is this? If you hair had a little more volume, everything would be fantastic. (Photo)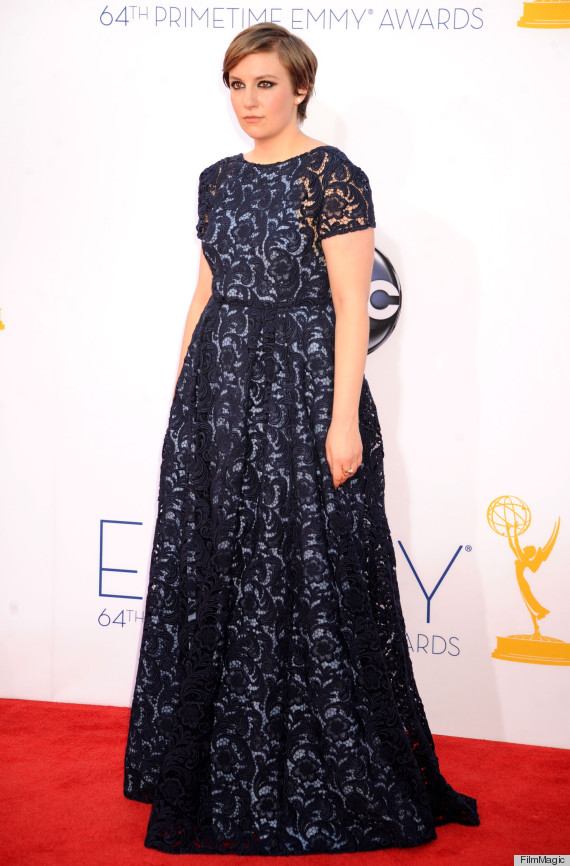 Lena Dunham:Oh how the mighty have fallen. And her new do' is the least of this look's problems. The granny-chic lace plus the lack of jewels equals Dunham accidentally wearing her nana's dress. I don't even want to talk about this anymore, that's how traumatized I am. Ladies and gent, let's take this time to reflect on the good 'ol days when she knew how to dress for her body.(Photo)
Glenn Close in Bibhu Mohapatra: My lovely Glenn, you know what you did. Will I forgive you for this? Maybe. (Photo)
Hayden Panettiere in Marchesa: Oh Georgia Chapman, what did you do? I usually swoon over Marchesa's collections; however, this selection was like a knife to my heart. It looks as if Panettiere was wearing a stellar column dress and then someone decided to saran wrap the ensemble out of pure jealousy.(Photo)
Heidi Klum in Alexandre Vauthier: In theory, this dress is exactly what a glamourous siren would wear. Unfortunately, I had a very rude awakening last night. The double slit was just too much for the Emmys. Honestly, Heidi should've saved this dress until she had to awkwardly bump into Seal at the Grammys. Additionally, the hair is unimpressive. Where's the sleek ponytail to complete this ultra-slutty look? I think Heidi's stylist was a little confused.(Photo)




Kristen Wiig in Balenciaga: To quote Bridesmaids, "What is happening?" I know Wiig is no longer on Saturday Night Live; however, she doesn't have a right to dress down. Honestly, this dress looks like a teenager's"fall ball" outfit. The comedian's dark hair is to die for, but this dress... no thank you.(Photo)
Ashley Judd in Carolina Herrera: Poor Ashley: she was rejected from the Hollywood Bowl's production of Hairspray and didn't have time to change out of her outfit. If the dress wasn't horrid enough, Judd's defiant hair is nauseating. In her Emmy-nominated miniseries, Missing, Judd's onscreen sun is kidnapped-- why didn't anyone keep this out of Judd's sight?(Photo)



Lena Headey in Giorgio Armani: In what world is this ensemble okay? If Florence Welch isn't wearing a this...situation, nobody can. The sheer details is extremely eery, especially paired with the delicate dress. Ned Stark would not approve. (Photo)
What did you think of the red carpet fashion? I'm dying to know.
xx