Stress enables people to do many things: smoke, drink, or maybe even eat an obscene amount of food. When I'm stressed, I love to listen to a good show tune. I know, who am I? With papers, projects, and finals galore this week, I developed a strange love for the Green Day musical,
American Idiot
. It all began when I started You Tube stalking John Gallagher Jr.:
he's so cute
! Now, I can't stop listening to their remedition of "American Idiot." I know I could've of easily made the song of the week Green Day's original version, I'm a blatantly honest person and don't like lying. Plus, this quirk is too funny to ignore.
STYLE SPIRATION: Rachel McAdams
From
Mean Girls
to
Red Eye
, I always find myself loving Rachel McAdams. She's a great actress and a super fabulous fashionista. If you don't believe me, scroll down to the weekly. This week's edition of the Style Spiration is dedicated to Rachel McAdams for always being a classy actress and fabulous fashionista.
At the most recent Cannes Film Festival (Marchesa): I want this dress for my own- future- collection of Marchesa dresses. Amazing. The cherry red lace adds the perfect amount of drama to the nude background. I could picture this dress being a little provocative; however, I think it's so chic and dramatic and perfect. Paired with the feminine makeup and old Hollywood glamour hair? Perfection. (Photo Cred)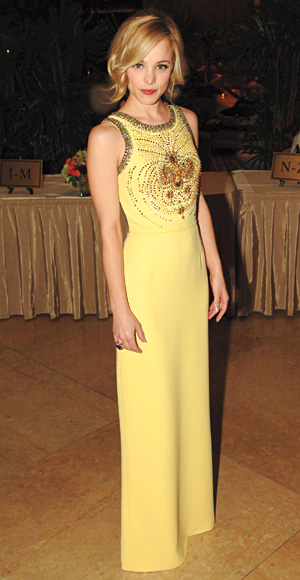 At a 2006 Oscar Ceremony (Miu Miu): I feel as if most blondes stay away from yellow, but I love this color on her. I love how simple the silhouette and the detailing on the bodice is fantastic. The relaxed updo works with the dress so well. Since there's a lot of sparkle on the dress' bodice, the minimal jewels is good. Last but not least, that red lip? It's everything. (Photo Cred)
McAdams Food Shopping (Her own clothes, shocker): I just love how casual this look is; however, she's not wearing your typical sweat pants. The black accessories, knee highs, and boots really make the dress the look's focus. There's something pretty funky about that boot and knee-high combo. I kind of like it, though. (Photo Cred)
At the 2010 Academy Awards (Elie Saab Haute Couture): Amazing. The dramatic skirt with the subtle floral print is brilliant. I love how she kept her hair up and the dangling earrings are the perfect amount of jewels for this look. Lovely. (Photo Cred)
xx