As the Oscars begin- loved the opening scene, by the way- I begin writing my fashion round up. I've just compiled my best and worst dressed lists. I have to say, this year's fashion is definitely
not
what I expected; however, can you ever really predict fashion? Just like the Sacha Baron Cohen-Ryan Seacrest red carpet incident, you cannot. I do have to say that the red carpet disaster angered me: I wonder what Christopher Bailey thinks about it? Anyway, let's cut to the chase and talk fashion, shall we?
Sherri Shepherd: Although I love the color with her skin tone, this dress is way too much. The jewels on the dress? no thank you. The keyhole neck? A major fashion faux pas. Why would she ever wear that black bra with this dress? Terrible. (Photo Cred)
Berenice Bejo (Elie Saab): As much as I love Elie Saab's 2012 Spring Couture, I just don't like how it's worn on the red carpet. It's a gorgeous dress; however, the styling is off. The hair- especially braided- with the beautiful mint color? Not feeling it. The clutch was too matchy-matchy, which I thought was boring. (Photo Cred)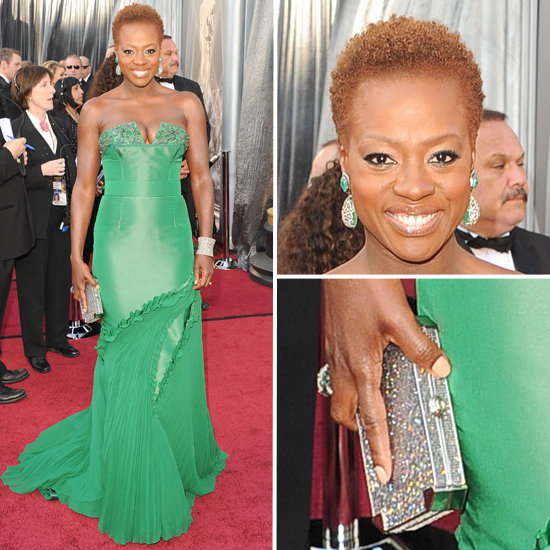 Viola Davis (Vera Wang): Absolutely not. I hate the way the bodice fits her: she looks as if she's going to burst at any moment! And the chiffon pleats are terrifying. It just looks awkward. But, to give this review some positivity, her makeup and hair is phenomenal. I love how she's rocking her natural locks. You go girl! (Photo Cred)
Jenny From the Block (Zuhair Murad): I think she's getting a little too old to wear such a revealing dress. The uptight bun isn''t a fun juxtaposition; instead, it's a little confusing. This is the Oscars: keep it classy! This ensemble would've been great for the Grammys, but not the Oscars. (Photo Cred)
Emma Stone (Giambattista Valli): I hate doing this, but I have to: it's how I feel. As a lot of critics have been saying, I think this ensemble is too similar to the Balenciaga dress Nicole Kidman wore to the Oscars a couple years ago. It almost seems like a not as chic repeat. The chunky Louis Vuitton bracelet is overbearing. Also, I think there's too much red: the carpet, the hair, the dress, the huge bow on the dress. It's just way too much! (Photo Cred)
Shailene Woodley (Valentino): As much as I love long sleeved dresses, I don't like this one at all. All the ivory completely washes her out. The detailing on the bodice looks unfitted and just awkward. The updo makes this look super matronly. And no jewels? Boring! A bold lip or even a pair of statement earrings would've made this look much better. (Photo Cred)
Anna Faris (Diane von Furstenberg): I eye this dress every time I'm in Diane von Furstenberg; however, not for this red carpet. I think this look can either look too flashy, oddly matronly, or awesome. Surprisingly, this dress did nothing for Faris: she looked rather heavy. As much as I love that blunt bob, it doesn't work with this styling. The longer earrings just look awkward. This dress would've been much better at the MTV Movie Awards or the Grammys, especially with a sleek ponytail. (Photo Cred)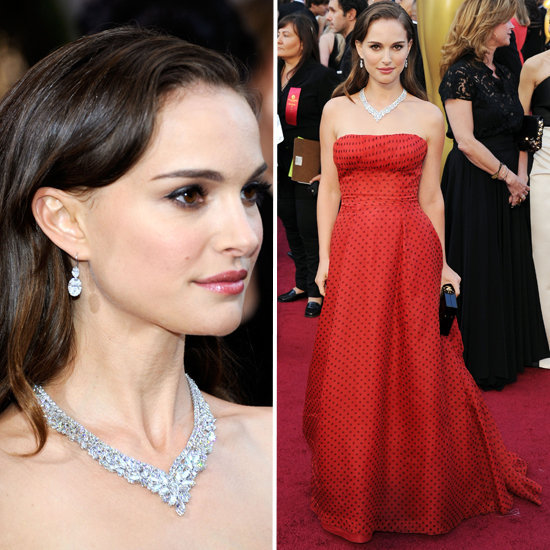 Natalie Portman (Dior): Love the jewels, hair, and makeup; however, I have very big issues with this dress. First of all: polka dots to the Oscars? What was her stylist thinking? She just looks frumpy. Portman should've just stuck with Rodarte: a good 'ol Rodarte and Portman collaboration never disappoints me. (Photo Cred)



THE BEST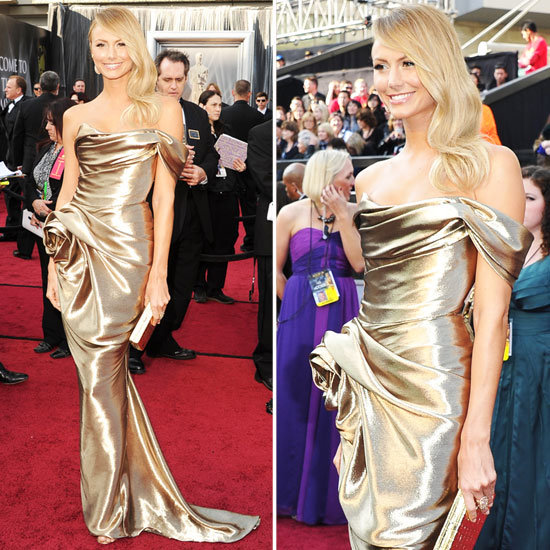 Stacy Keibler (Marchesa): Can we say 'Golden Goddess'? How flawless does Keibler look in this Marchesa? The simple silhouette is perfectly paired with the rosette and the asymmetrical shoulder. What I appreciate most about this look is the sense of balance: the hair and the rosette work together to create a cohesive and balanced look. Keeping the jewels at a minimal is perfect for this look because it's so shiny. In fact, statement jewels would've ruined this ensemble. Fantastic. (Photo Cred)
Michelle Williams (Louis Vuitton): There are no words to properly state how gorgeous she looks. This color is so stunning, but not overbearing.I'm obsessed with the subtle ruffles and the peplum: the perfect amount of detailing. Bold bracelets would've made this outfit too midsection heavy, so I love the dainty necklace. That bright lip makes this look cohesive and entertaining from head to toe! All these components are so reminiscent of William's Vera Wang dress at the 2006 Academy Awards, but that's alright with me! (Photo Cred)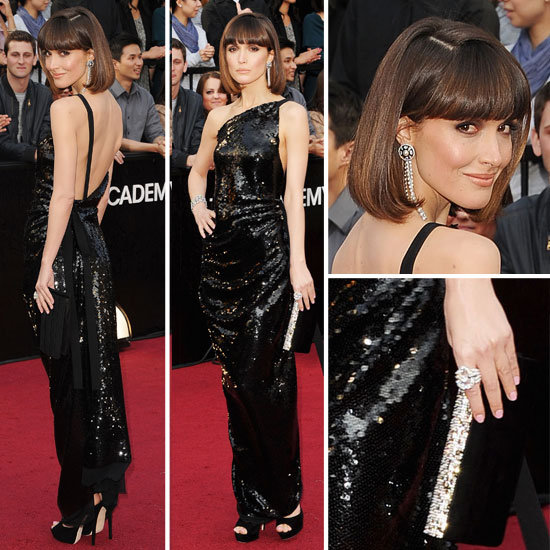 Rose Byrne (Vivienne Westwood): So I would like to be Rose Byrne in my next life: I'm obsessed with her style and, as always, she rocked such an innovative dress. This dress is just like Anna Faris' outfit...but better. This asymmetrical neckline and the column silhouette makes black sequins sexy. Since her bob isn't as pinned to her face, Bryne's dangling earrings complement her short do. Her makeup, jewels, shoes, and clutch all worked together to form a truly glamorous and sexy look. Also, can we look at that back? Phenomenal. (Photo Cred)
Tina Fey (Carolina Herrera): I think Derek Blasberg describes this look the best. Finally, Tina Fey is coming into her own and dressing to impress. I love the peplum on this Herrera dress. The glam bun and standout blue jewels? Forget about it.However, he dark color and the flared skirt stick with her original fashion aesthetic. (Photo Cred)
Angelina Jolie (Atelier Versace): Sexiest dress of the night? Absolutely yes.The high slit plus the structured bodice gives us the perfect mix of sultry and fashion forwardness. The lack of jewels makes this look more simplistic and relaxed. Can we talk about the bright lip and flowing hair for a second? Va va voom! Let's be honest: you would pop your leg like that if you were wearing that dress. (Photo Cred)


Milla Jovovich (Elie Saab)
: Such a stunning red carpet moment. This look is seriously flawless: the asymmetrical shoulder is absolutely divine and that beading is out-of-this-world. The silhouette, not to mention the hair, epitomizes old school glamour. The phenomenal red lip spices up the monochromatic look.
(Photo Cred)
Penelope Cruz (Giorgio Armani): This is my favorite Penelope Cruz look ever. The color is beautiful and that silhouette is so classic. The shoulders really show off that old school glamour. Her classic makeup, glamourous hair, and dainty necklace finish off this look with a bang! (Photo Cred)
Jessica Chastain (Alexander McQueen): Definitely one of my favorites from the night. This is so different for Chastain; however, it was a risk worth taking! I love the mix between black and gold, especially with that fantastic print. Her polished down do and fresh makeup adds a hint of girly glamour. She literally looks perfect. (Photo Cred)




Octavia Spencer (Tadashi Shoji): First of all, she won! Second of all, I'm obsessed with this dress. I love the super flattering silhouette of this dress. The beading moves towards her stomach, making this dress even more flattering. White looks absolutely gorgeous with her complexion! Also, her hair and makeup is sultry and classic at the same time. How? I couldn't tell you. As a side note, I would really like those earrings in my jewelry box. (Photo Cred)
Gwyneth Platrow (Tom Ford): Such a stunning ensemble. I love how Platrow is always willing to take risks. What makes this look work is the straight silhouette. If there was anymore volume, the cape would look terrible. Even without the cape, this dress is effortlessly chic. That strong cuff gives this Tom Ford attire that dash of glamour that the night requires. This red carpet ensemble will go down in history.(Photo Cred)
What are your thoughts? Comment below!
xx