I really do love Train. This band's music is always really
epic
or just super
fun
. Their latest song, Drive By, is really upbeat and always makes me want to bop.
Style Spiration: The Olsen Twins
Ever since my beyond amazing New York Fashion Week experience this season- more on in an upcoming blog post- I've become obsessed with the Olsen Twins. They exude innovation and style, which I admire so much. Also, they've really transformed from boho chic into sharp dressers; yet, they still maintain their own personal style. It's a very complex formula, but they always perfect it. I find it incredible that they've evolved from being those cute kids on Full House to true staples in the industry.
At the debut of their Hollywood Star: Although they're notorious for dressing "granny chic" (who isn't every now and then?), I think that both Mary Kate and Ashley have a knack for dressing age appropriate whilst looking undeniably chic. Let's look at Ashley's outfit (is that Ashley? I couldn't tell you) as an example, shall we? That purple haltered dress screams fun-loving. Pairing the dress with the uber luxe dangling earrings? So fabulous and dresses this look up. This already awesome look is finished up with that navy heel. So fashion forward.(Photo Cred)
At Spring 2012 RTW in New York: Usually, wearing sunglasses during a show is so silly...unless you're Anna Wintour. Even still, it's a little silly. Regardless, this dolled up duo pulled off this look in a way that didn't bother me. The monochromatic look is still fun because they both mix strong separates that stay true to their personal style. The light lip and wavy hair makes this look fresh and not snobby. (Photo Cred)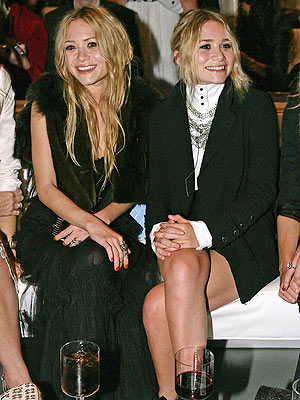 In Chanel: What I love about Mary Kate and Ashley's style is how they both dress as individuals; however, their looks are always cohesive with the other's. These two ensembles are so different, but they complement each other instead of clash. The disheveled hair ties the two looks together. I should also take this time to mention that I'm mildly obsessed with that black Chanel dress. (Photo Cred)



Their looks from the 2009 Met Ball perfectly portrays their fashion success. They both know to have fun with fashion and pick beautiful pieces. The simplicity of Ashley's white dress complements all of the fripperies in Mary Kate's Lacroix dress. Also, Ashley's earrings as well as the silver back chain works well with the silver Lacroix. Perfection.
xx