Once again, I'm obsessed with a Fun cover of a song I've already deemed trendy. But it's not my fault that Nate Ruess' voice makes me melt. All he needs to do is cover
One Direction
and I'll be one happy girl!
Style Spiration: Reese Witherspoon
My almost unbearable schedule this past week has made me appreciate clean and simple style. Though I'm a frippery fanatic, going back to the basics is absolutely necessary every now and then. In honor of stress-free style, I'm dedicating this week's style spiration to the queen of simple chic: Reese Witherspoon. She has the ability to dress age-appropriate, classy, and fashion-forward at the same time!
This is by far the best pregnancy-friendly look I've seen in a while. Witherspoon quickly stepped away from the world of following chiffon at this year's Cannes and sported this fitted, black, long-sleeved mini. The thin silhouette perfectly complements her baby bump without look trashy. For a kick of summer-approved style, the pink heels act as that ever-so necessary pop of color. The subtle smokey eye, paired with the soft pink lip, allows Witherspoon's pregnancy glow to shine through.(Photo Cred)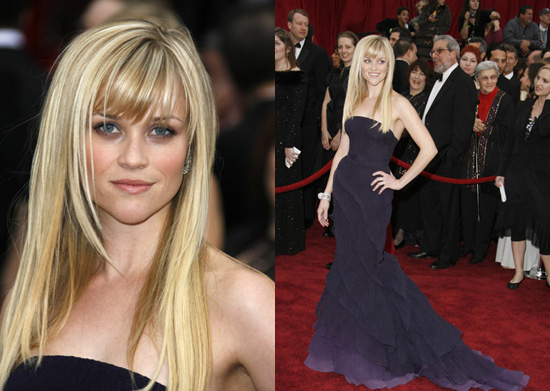 Only a year after her fantastic Oscar win, Witherspoon brought simple chic to the AcademyAwards with this drama-packed Nina Ricci dress (it all sounds ironic, but so accurate). From the subtle ombre to the diagonal ruffles, this gown pairs a typical silhouette with standout embellishments. Witherspoon strays away from the typical Oscar beauty regimes with the sleek down-do', smokey eyes, and a barely- there lip.(Photo Cred)
Even off the red carpet, she still has it. This occasion, for example, shows off a luxe, casual aesthetic. I love the monochromatic mix of different textures. The light fedora is so incognito chic. J'adore! (Photo Cred)
Nina Dobrev at Cap D'Antibes (Elie Saab): What a vision! I'm so obsessed with this blue, sequined number. The dropped shoulder and high-slit make this ensemble classy, glamourous, and so not something an ice queen would wear. If you're in a mood for a striking contrast, look no further than the silver accessories. Can we say fabulous? Dobrev's fashion bun is the perfect way to finish off this ensemble.
Bella Heathcote at Vanity Fair and Gucci's Cannes bash: I'm literally obsessed- so in love with this editorial ensemble. Metallics and neutrals- ie black and white- create a striking combination. Fortunately, Heathcote nixes the jewels, which creates a clean look. Not to mention she aces the beauty front: blunt bangs and gothic lips are musts for the fall! Can we even think of a more spectacular combination of simple lines, gothic glam, and cutting-edge magic? No!
Jordana Brewster at a Coach benefit: Gone are the days of color blocking being the end of discussion. Now, let's focus on a new way to approach your favorite hue- monochromatism. I'm obsessed with mixing different textures and fabrics that are the same color- so chic. Jordana Brewster totally rocked this monochromatic trend. From the whimsical, oversized clutch to the printed blouse, this look is super sweet. The silver shoes add the perfect finishing, quasi-monochromatic touch!
xx