I've probably expressed this a million times in this blog, but here we go again: I love Joseph Gordon Levitt. So much. He's so beautiful. My friend showed me the following video and I'm borderline obsessed with it. He's just so perfect.
STYLE SPIRATION: Olivia Wilde
In my humble opinion, Olivia Wilde always look super fashion-forward. Her style is constantly evolving and I love it. I feel like nobody should be stuck in a single style forever. Evolution is key! Take a note: Olivia Wilde uses juxtaposition to spice things up.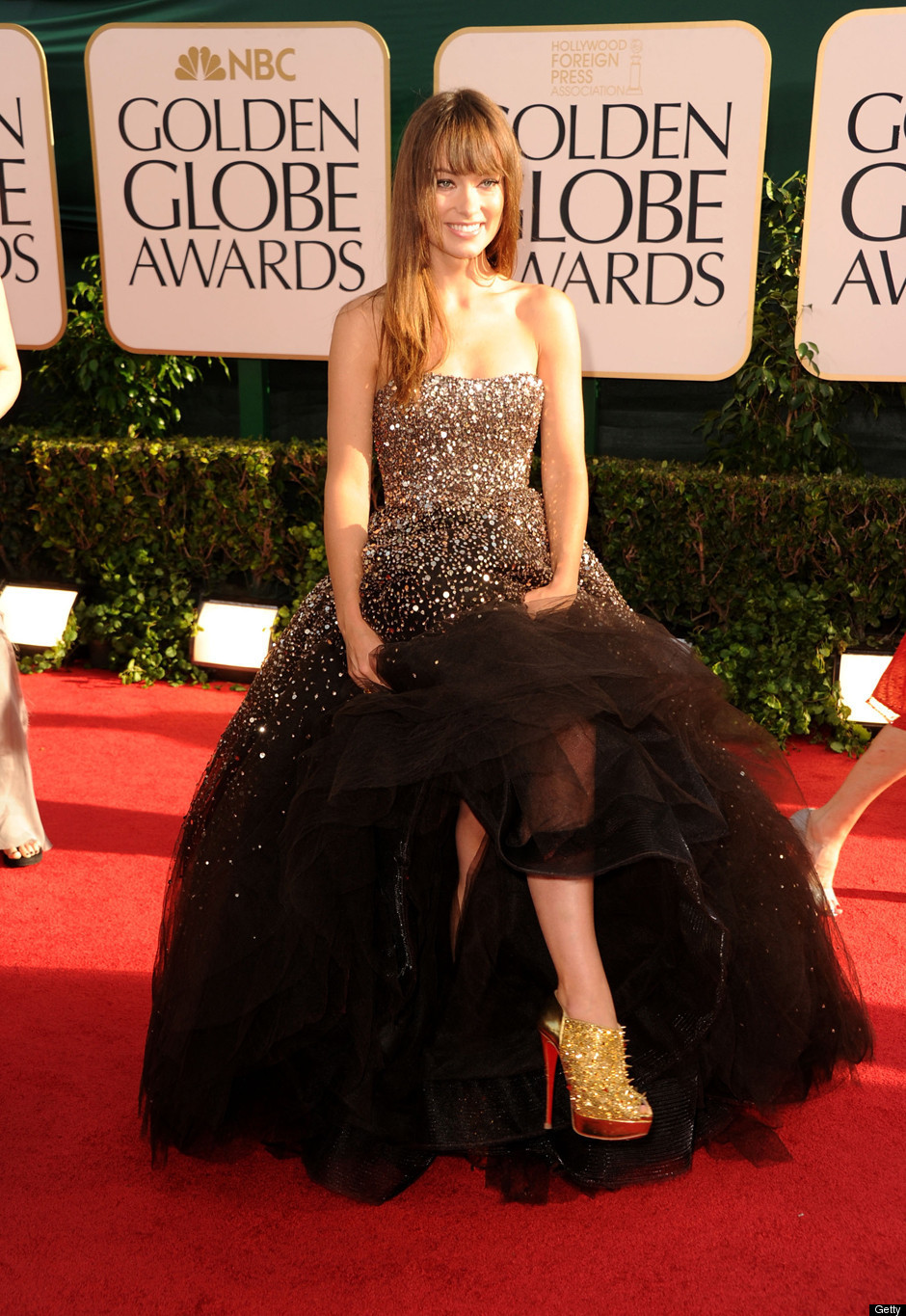 Olivia Wilde at the 2011 Golden Globes (Oscar de la Renta): This is one of my all-time favorite red carpet looks. The femininity of the dress plus the edginess of her hair and the Louboutins equals a stellar look. So trendy, I'm obsessed. (Photo Cred)
At the Glamour Reel Moments Premiere (David Szeto): While I wish that she wore a jewel-toned shoe instead of the hot pink one, I'm totally digging the concept. The vertical stripes on her dress are extremely slimming, especially with that silhouette. The bangle and drop earrings are very simple; however, they promote a steady movement from her hair and makeup down to the pink shoe. Besides the harshness of the hot pink shoe, I love the styling of this outfit: so classic! In addition, her makeup and soft updo are fabulous.(Photo Cred)
At Ralph Lauren's Spring 2012 Show: Incredible. First of all, I love a good playsuit: always have, always will. The keyhole in this playsuit is super sexy, but not slutty. The green clutch and burnt orange lipstick are fabulous pops of color: they add that dash of juxtaposition without looking awkward. Her soft waves also keeps this look casual: a sleek ponytail would've been too much for NYFW.(Photo Cred)
Elizabeth Olsen at the London premiere for Martha Marcy May Marlene (Chanel Haute Couture): The other Olsen is such an up-and-coming fashionista, I kind of love it. The silhouette and fabulous detailing of the look is so European. The blush pink gives such an edgy skirt and top combination a dash of femininity. The red lip gives this look some life and those waves are absolutely enviable.
Sienna Miller at the International Medical Corps (Twenty8Twelve): I love how sixties and girly this look is. The boatneck, mixed with the short sleeves, is so classic. Keeping an entirely black outfit is uber fabulous because it allows her hair, makeup, and those awesome hoop earrings to take center stage. I'm really into that high bun: so retro! Overall, it's a pretty simple look, but that's what makes it chic.
Nicole Richie at the ACE Awards (Antonio Berardi): Borderline obsessed with this look. That plunging V neck and subtle slit is super sexy; however, the updo and the minimal jewels make this look more classic. On the other hand, the studded clutch gives off this super edgy vibe. All of these different influences work because the outfit is completely black. Fabulous.
I guess this week's theme was monochromatic?
xx