There have been a lot of award show lately, like the Bambi Awards...what. Clearly, I haven't been on my A-Game in terms of red carpet reporting so get ready for a quick crash course! Allow me to give you lovely people the best of the best. And the worst of the worst. You're welcome.
Taylor Swift at the Country Music Awards (J.Mendel): I'M SO BORED WITH HER IT'S BORDERLINE UNBEARABLE. At this point, I can tell you what she's going to wear: something girly from J.Mendel or maybe a pop of color from Jenny Packham. Once every blue moon, she may even wear Elie Saab, but that's a BIG maybe. Being boring is probably the biggest fashion faux pas ever. Even when people dress poorly, they're trying! They had a vision, it just failed miserably.You're a superstar, Tay Tay, so dress like it. (Photo Cred)
Alejandra Guzman at the Latin Grammy Awards (I Don't Want to Know): I think this dress speaks for itself. There are really no words to describe how terrible this is.(Photo Cred)
Leanne Rimes at the CMA (Badgley Mischka): As much as I love Badgley Mischka, I hate this look. The superfluous amount of frill makes her appear even skinnier, which scares me. The hair is way too casual and makes it look like she slipped on the dress and left. It just looks awkward. To top it all off, that's a pretty awkward pose. (Photo Cred)
Laura-Bell Bundy at the CMA (A Trailer Park, apparently): Serious question: why would anyone EVER wear this? She looks so trashy or as if she just came from the circus. Her hair looks really good, but I'm so angry about this look. Seriously, is this a publicity stunt or does she really have no idea how to dress? (Photo Cred)
D'manti at the Latin Grammys (No designer will confess to making this): I love a good mullet silhouette every now and then. This, however, is too much. Too much of EVERYTHING. Those awkward bunches of fabric aren't flattering, that shirt makes me uncomfortable, and who needs a train that's THAT long? She doesn't. (Photo Cred)
Shakira at Latin Grammys (Nobody ever knows who designed the unfortunate looks for a reason): This reminds me of Sherri Hill prom dresses, which I despise with a burning passion of a thousand suns. It's just not chic and too flashy. She's so pretty! Why would she wear something so tacky? I just don't understand. ((Photo Cred)
Selena Gomez at the MTV European Music Awards (Marchesa): I actually like this dress; however, the styling scares me. Doesn't this look- especially the ponytail and pink clutch- remind you of the Lolita trend? I'm all for letting your fashion freak flag fly, but that trend just makes me feel uncomfortable. (Photo Cred)
Jenny from the Block at the Glamour Women of the Year Awards (Versace): Marc Anthony who? No really. She looks stunning! The nude look works so well with the floral applique. The body-hugging silhouette complements the applique instead of making her seem awkward and bulging. That sexy slit says "look at me" without being trashy. Also, that hair and makeup? Flawless. Literally. Flawless. This is a homerun- my only reference to sports in this blog whole- in my book! (Photo Cred)
Indie Lee at the Glamour Women of the Year Awards (Dolce and Gabbana): As my absolute FAVORITE skin care guru-slash-mentor in the whole wide world, how could I not include her fashion win? Indie looks super sophisticated and fierce in this leopard Dolce and Gabbana dress. I love this dress on Indie because she looks like a modern-day pinup girl, which never goes out of style. The unexpected pop of color really spices up this outfit and allows the leopard to act as a neutral. Anyone who can make leopard act as a neutral is a winner. Minimal jewels and the tan shoes is a super smart move because we're not overwhelmed by too many bold elements. FABULOUS. (Photo Cred)
Lea Michele at- surprise- the Glamour Women of the Year Awards (Jenny Packham): I have a very rational beefage with Lea Michele, which dates back to her days in Spring Awakening. However, she looks absolutely stunning here. This dress, especially coupled with the soft waves, gives off such an old-school glamour look that I'm obsessed with. Also, I love me a bright lip so this is perfection. Keeping the amount of jewels on a low is appropriate, since the dress is quite extravagant on it's own. Lovely! (Photo Cred)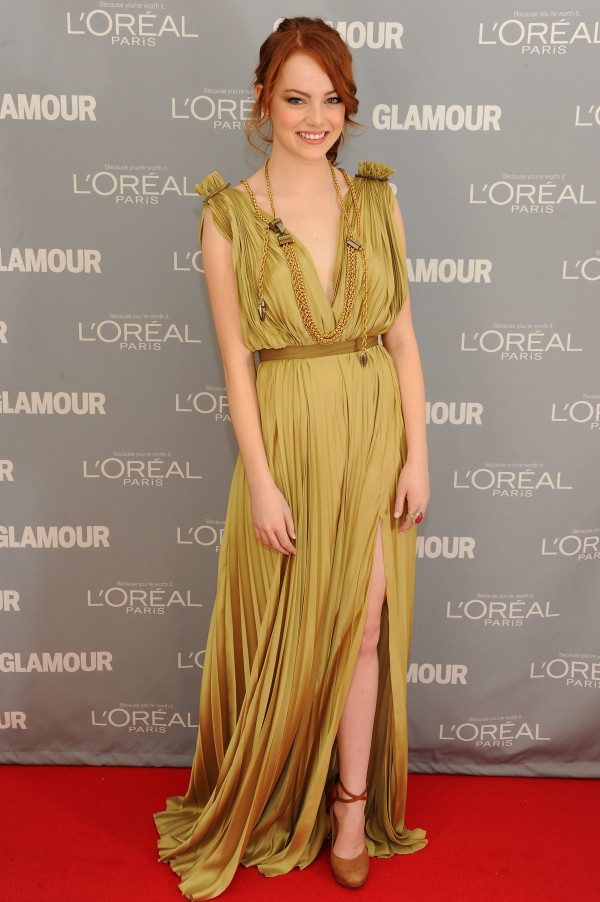 Emma Stone at the Glamour Women of the Year Awards (Lanvin): Remember when I said that Emma Stone always looks super chic and cool? Yeah, I wasn't lying. I love the this look on her so much: it's like a chic Greek goddess. Super cool. The dress' color, which would look awkward on most, actually makes her glow: it looks fabulous with her red hair! The draping and the long necklaces make this look effortlessly cool. And can we talk about those shoes? Awesome. I also love the wavy updo: a casual chic hairstyle. SO GOOD. (Photo Cred)
Sofia Vergara at the Latin Grammys (Reem Acra): She looks absolutely heavenly. The silhouette of this dress is flattering; however, it's not as sultry as most of her outfits usually are. I like the change: I think she looks classier! The intricate beading- or at least I think it's beading- works so well with those uber glam hoop earrings. As always, her hair and makeup is top notch. It's a win. (Photo Cred)
Lady Gaga at the Bambi Awards (Alexander McQueen): So you probably think that I'm a craze, but I have an unconditional love for McQueen. IRL- in real life if you're not tehy savvy - this collection was mind-blowing. Don't hate, appreciate the beautiful craftmanship. (Photo Cred)
While there were many more great looks and disasters, these are my personal favorites.
And on another fashion note...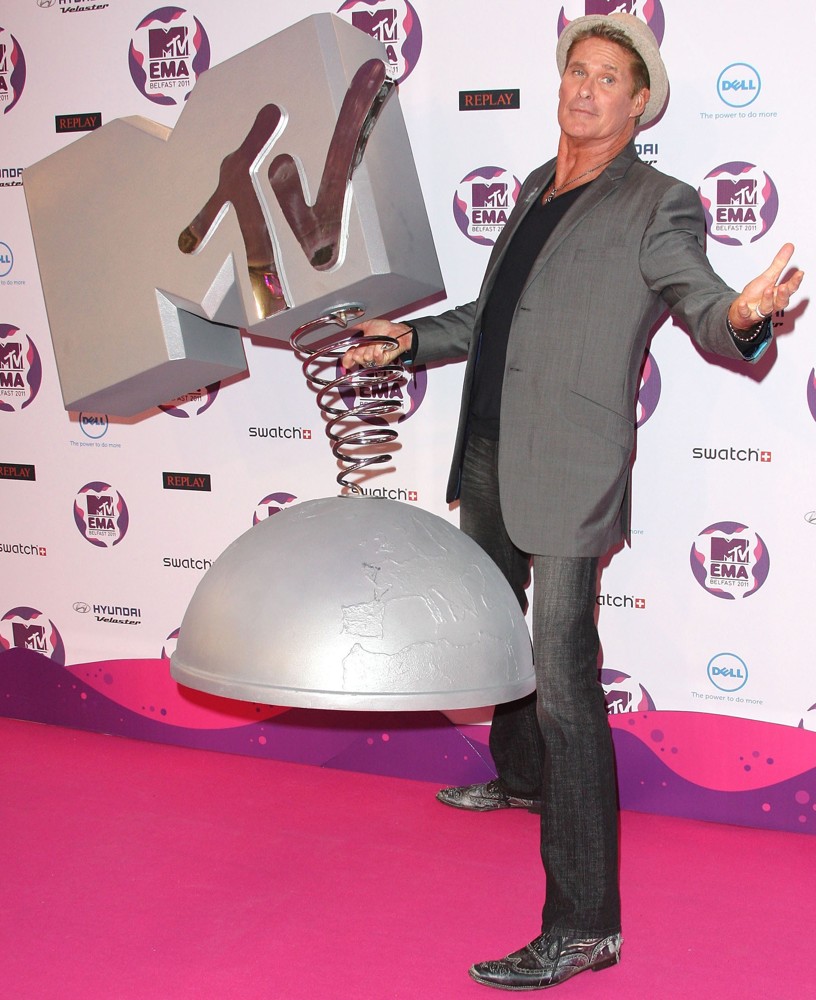 THE HOFF IS TOO OLD TO WEAR HIP FEDORAS .
xx