Ladies and gent, the Style Files are back in action. After a short hiatus- there's so much to do during the winter season- we're back to looking at our favorite weekly looks, gushing over a celebrity's style, and jamming out to songs of my choice. So let's get this party re-started, shall we?
Whenever I head over to London, I always make sure to pick up a couple British CDs. I got to keep my musical variety, you know? Anyways, I'm currently obsessed with Olly Murs' "Dance with me Tonight." To me, Olly Murs is the British Bruno Mars. Too far? Judge for yourself!
STYLE-SPIRATION: Florence Welch
Okay, I didn't love her in the
Chanel cape
; however, I think that Florence Welch is uber fashionable. Unlike many celebrities, you rarely find Florence wearing something sub-par that doesn't roll with her style aesthetic. Also, ethereal plus high glamor equal a major win in my book! So this week, let's take a look at Florence Welch's amazing style, shall we?
Performing at Chanel Spring RTW 2012 Show (Chanel): Not only was this such a major Fashion Week moment, but I love the outfit. The beading at the fabric paillette-esque detailing looks phenomenal with such a simplistic silhouette, Her soft wavy hair is such a stellar finishing touch. (Photo Cred)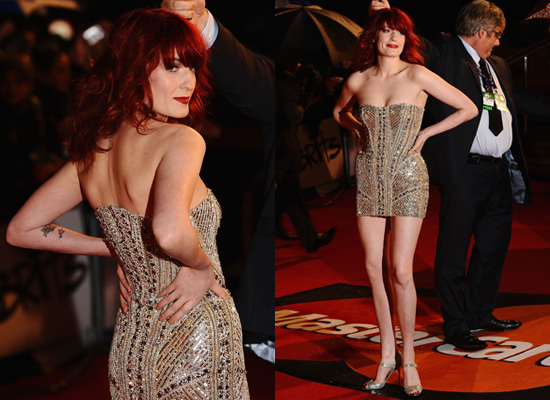 At the 2010 Brit Awards (Zuhair Murad): A sequined minidress? So sexy! It's not very Florence; however, she still tosses in that ethereal look with the hair. The fitted silhouette makes her look super curvy, which is awesome. The relatively simple shoes keep the focus on that stunning dress. (Photo Cred)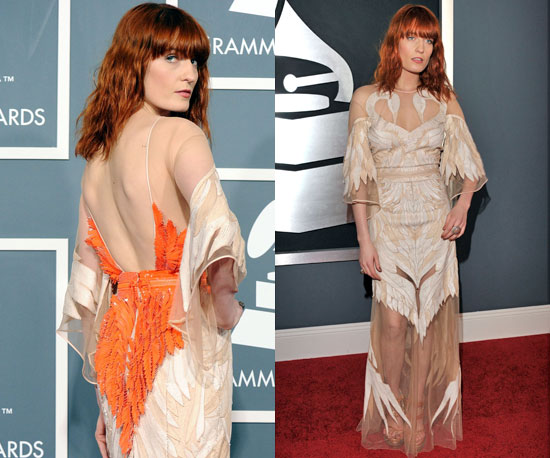 At the Grammys (Givenchy): Honestly, this is Florence Welch at her finest. She is the perfect person to pull off this Givenchy couture dress. I love how her red locks goes with the orange on the back of the dress. The natural makeup? Perfection. (Photo Cred)
Rooney Mara at The Girl with the Dragon Tattoo premiere in Paris (Louis Vuitton): Not only did Rooney kick-butt as Dragon Tattoo's Lisbeth Salander, but she also knows how to wear statement pieces. The simple strappy sandals- though not too appropriate for winter- are perfectly paired with the extravagant dress. Rooney walks the red carpet sans jewels in order to keep this look clean. The slicked back hair plus the red lip? It's everything. Look, my predictions are already coming true!
Minka Kelly in Beverly Hills (Unknown designer): I'm obsessed with this look. That flowing dress is so reminiscent of effortless seventies fashion, while the structured clutch gives this look a good balance of ethereal and strength. The minimal silver jewels and soft waves are the perfect finishing touches.
xx