I may be a little behind, but I cannot get enough of this song. Lana Del Rey's "Born to Die" just makes me want to roll on a furry carpet and drown my thoughts in a bottle of wine. Weird? Get used to it.
Style Spiration: Jennifer Lawrence
For me, this week was all about
The Hunger Games
. In true "me" form, I devoured the book just before the movie adaptation hits theaters this Friday. Needless to say, I'm extremely excited. Not to mention that the movie's superstar, Jennifer Lawrence has WOWED us at each
Hunger Games
premiere (more on that later). It really made me think about Jennifer Lawrence as a fashionista: this girl has ability to impress us at every single event. The girl on fire is literally on fire right now!
At the 2011 Academy Awards (Calvin Klein Collection): Though I'm not crazy for minimalism, Lawrence takes this simple dress and gives it a sultry twist. From the minimal jewels to the Farah-inspired hair, Lawrence makes this dress sexy and forces us to focus on how well her bod looks in this dress. But not in a creepy, slutty way.(Photo Cred)
At the 2011 Spirit Awards (Dolce and Gabbana): I'm obsessed with how ethereal this whole look is. The dainty lace works perfectly with her relaxed waves and that soft, pink lip. The Lorraine Schwartz bracelets not only give this look a pop of color, they also give a sense of personal style. And personal style is always in trend. (Photo Cred)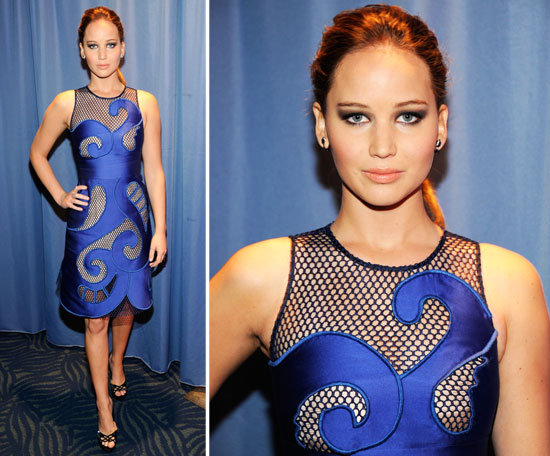 At the 2012 People's Choice Awards (Viktor & Rolf): Though I understand why some people may not love this dress, I'm obsessed with how the whimsical waves work the the mesh background. Since this dress is an artistic piece, minimal jewels and simple, black shoes are the perfect way to accessorize this outfit. The sleek ponytail and fierce eye makeup gives this look a hint of fashion forwardness.(Photo Cred)
xx