A couple years ago, I saw Steel Train alongside The Postelles and Fun. My love for them had a major comeback this week when they randomly popped on my iTunes. Witty, poppy, and kind of quirky- the perfect way to start summer!
Style Spiration: Zoe Saldana
I'm going to go all hipster on this Style Spiration- I liked Zoe Saldana
before
Avatar
. However, this starlet has only recently "made it" as a fashion favorite. Whether it's a different silhouette or an edgy frippery, Saldana always tries something new. As every fashionista knows, it's so easy to only wear what you're comfortable in. With every step on the red carpet, Saldana breaks down her fashion wall. Ergo, she's invincible.
I'm obsessed with the Elie Saab couture dress Saldana rocked at a Cosmo Latina event. The applique bodice works perfectly with the subtle tiered skirt. Also, can we talk about the detailing on that heel? To die for. The bright lip and the soft hair finishes this look with a strong girly punch! (Photo Cred)
Love this blend of futurism and romanticism. The bold shoulders are perfectly balanced with the slightly trumpeted skirt. As for the jeweled embellishments- the perfect slice of glamour. The low maintenance hair prevents an overbearing red carpet moment. Tres jo jo. (Photo Cred)
A celebrity can have an amazing stylist and be the least chic chick out there. In my opinion, street style is the true test of fashion. Are we surprised that Saldana aced it? Nope! The dark-washed skinnies are so Parisian chic with the cutout heels. Let's not forget that the softly draped scarf is perfection. Even sans makeup and minimal hair styling, you know that Saldana is a fierce fashionista! (Photo Cred)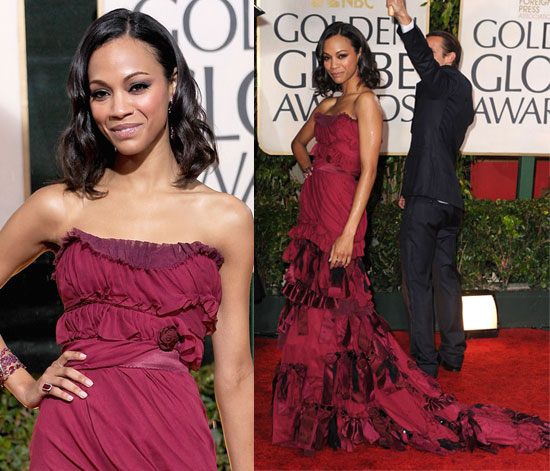 At this point of the style spiration, you're probably wondering where the splash of color is. Between the raspberry hue to the peasant-like ruffles, this Louis Vuitton dress is something else. The matching jewels creates a monochromatic ensemble that anyone would kill to wear. The relaxed hair as well as the monochromatic makeup screams understated elegant. (Photo Cred)
Natalie Portman at the New York City Ballet Spring Gala (Dior): Clearly, the Black Swan star could not stay away from the world of tutus and pas de beurres for too long. Simply stated, Portman looked gorgeous at this event. The navy and black color combination offers an edgy alternative to pure black. From the leather bow at the bodice to the tiered tulle, this Dior dress also offers a hint of femininity. Portman completes this look with subtle jewels, fresh makeup, and a messy updo.
Emily VanCamp at Hollywood's Sunset Tower Hotel (Alice + Olivia by Stacey Bendet): Funky lace, a feminine peplum, and a pop of color? Needless to say, I'm obsessed. The all black ensemble subdues all the fashionable fripperies. Not only does VanCamp rock the ensemble, she also conquers this look on the beauty front. Those loose waves are to die for!
Catherine Middleton at a Claridges' dinner (Roland Mouret): The duchess is looking absolutely regal in white. The slit and platform sandals give this look a dash of edgy glamour. I feel as if we always see Middleton in structured, printed midi dresses or princess-esque attire. It's definitely nice to see Middleton is something- dare I say it- minimalist and sleek. As always, Middleton finishes up this ensemble with her signature long locks.
Unless you're living under a rock, you know that today is Mother's Day. I just wanted to give a shout-out to my mother- she's my rock, my cheerleader, my partner-in-crime,and my favorite shopping buddy. Everyday, she inspires me to be the best I can be and teaches me that pure sophistication never goes out of style. I love you more than anything and am so lucky to be your daughter!
xx